South Shore People Power is a documentary film about the fight to stop Enbridge Corporation from building a dangerous and destructive 7,700 horsepower fracked gas compressor station in a hightly populated area of Weymouth and Quincy. Construction began in December 2019. FRRACS was formed in January 2015 and a five year fight now to stop this dangerous poisonous compressor station continues. I am currently in the editing process and hope as soon as possible to create a documentary that will help spread the word and build the movement to stop this dangerous, outrageous, toxic fracked gas compressor station. I will also will continue to document the daily struggle as important developments happen daily. Please visit nocompressor.com and join the fight to stop the compressor station.
This photo gallery is of miscellaneous photos and timeline video capture stills of a dynamic people's movement to stop the Weymouth compressor station. The photos and stills are not necessarily in any particular order and date back to 2017 when I first became aware of FRRACS and the fight against the compression station at the Fore Rive Bridge. I included many images in this gallery because I wanted to show the great fightback spirit of the people and to play tribute to all those who have fought so hard for over 5 year now since January 2015 and continue to struggle every day.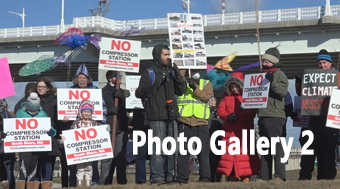 Photo Gallery 2 Features photos and timeline captures from the Hundreds Protest, 13 Arrests day at the construction site shutdown day, February 19, 2020.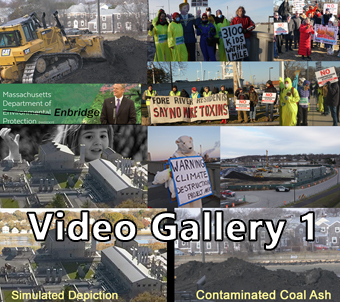 This video gallery is made up of mostly short clips and interviews with minimal editing from various events and meetings dating back to 2017 when I first became aware of the plan to build the comressor station. Opposition to the station began in January 2015 when FRRACS was formed. This video gallery also has extended videos of the meetings that were held regarding the permitting and apporval process conducted by organizations tied directly to international major toxic polluter Enbridge Corporation that is attempting to build this 7,700 horsepower Fracked Gas Compressor Station.